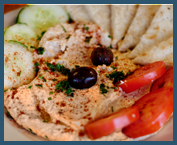 Hummus Platter
Ground chick peas & Tahini sauce served with olives, tomatoes, cucumber, and pita bread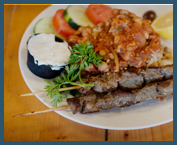 Kabob Platter
Comes with your choice of rice, lentils, couscous, hummus, greek salad, or fries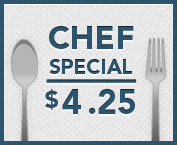 Spanakopita
Spinach and feta baked into phyllo dough.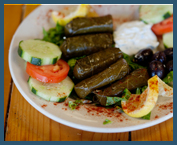 Veggie Dolma
Stuffed grape leaves
Pitaria's mediterranean grill brings culture and exotic food of the middle east to Tallahassee!
The Pitaria offers flavorful, authentic Greek and Mediterranean food that you'll enjoy all fitting in a low fat low calorie diet without worrying about your waistline. The traditional Greek and Mediterranean diet consists of ethnic flavorful spices, olive oil, cholesterol free and a good source of antioxidants, lots of vegetables, beans and nuts, and variations of cheese and yogurt. Pitaria offers a variety of platters catering to both vegetarians and non-vegetarians. We have delectable menu items from hummus, souvlaki, Greek fries, gyros to baklava. So come out and enjoy a little different tast in town and satisfy your Greek palate!